Coring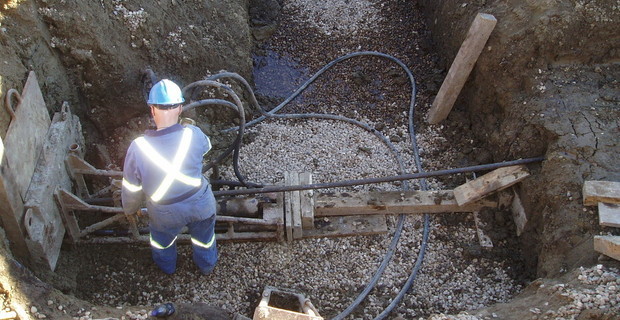 METHOD DESCRIPTION
Neptune Coring started in 1970 with the patented Armadillo Coring System. This trenchless technology utilizes a hydraulic pump to drive a drill rod, horizontally, from a launch pit to a receiving pit. When the drill rod has reached the recieving pit, a knife is attached which is drawn back towards the launch pit. The cutter, or knife, is designed so that the core being removed is slightly compressed and the hole expand to leave residual compression in the soil. After the pulling the knife back 6'-10', the power is reversed and the core expelled into the receiving pit. Neptune has been using this trenchless technology for over 40 years to install water services, water mains, gas lines, electrical utilities and other utilities.
TYPICAL AREAS OF INSTALLATIONS: Residential Services
MAIN APPLICATIONS: Water Service, Water Mains, Gas Lines, Utilities
SOIL CONDITIONS: Various
DIAMETER RANGE: Core holes can vary from 100mm (4") - 762mm (30")
DRIVE LENGTH: Up to 46m (150')
ACCURACY: Installation can be achieved to a specific line of +/- 600mm, and grade +/- 50mm of design.