Guided Boring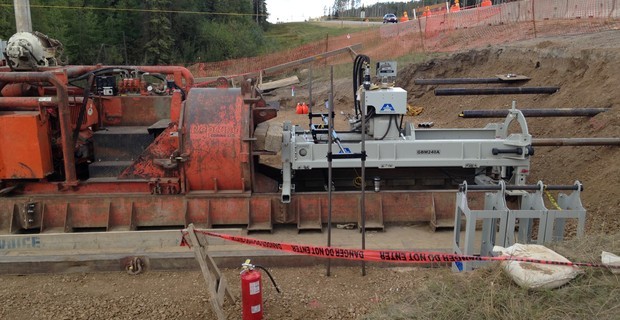 METHOD DESCRIPTION
Guided boring is also method commonly referred to as a pilot tube method. This is a hybrid method paired with other trenchless technologies. The major components of this methodology are a line and grade control system and a hydraulic jacking frame. The line and grade control system, essentially guidance, uses a camera mounted theodolite and a pilot tube target that use LED's which is then displayed to a monitor. The jacking frame generates pushing force and rotational torque to push and steer the pilot tube segments complete with a steering head through the ground. The pilot tube segments have an inner diameter large enough to view the illuminated target. Once the pilot tube is installed, a reaming head (upsizing tool) is attached complete with the final casing or intermediate sized casing and is pushed through along the same alignment as the pilot tube. Size of pipe pushed is dependent on both the jacking frame capabilities and/or combined trenchless technologies. After the final carrier pipe is installed, conventional case boring tools and techniques are used to remove the spoil.
TYPICAL AREAS OF INSTALLATIONS: Roadway & Railway Crossings, Pipeline Right-of-Ways, Buried Utilities
MAIN APPLICATIONS: Storm Culverts, Steel Sleeves
SOIL CONDITIONS: Displaceable soils, however this method can be used in a variety of soil conditions.
DIAMETER RANGE: GB can be used to install steel casing from 100mm (4") - 2150mm (84").
DRIVE LENGTH: 12m (40') – 120m (394')
ACCURACY: Installation can be achieved to a designed line and grade.
TRENCHLESS TECHNOLOGY SYNERGIES: Guided boring is best utilized in collaboration with other trenchless technologies such as case boring or pipe ramming. The use of guided boring will result in superior line and grade accuracy.